U.S. Department of Transportation statistics show that there are more that 9 million motorcycles registered in the United States, and while that seems like a big number it represents only about 1/36 of the all the non-commercial vehicles on the road today. Public opinion polls through the years have shown there is a bias against motorcyclists by non-bikers with sentiments like this expressed by many:
Motorcyclists cause more accidents than automobile drivers.
Motorcyclists deserve to be injured if they don't wear a helmet.
Motorcyclists all drive like crazy people.
People who ride motorcycles are usually in "biker gangs" and are a bad element in society.
These untrue and unfair perceptions can often manifest in a courtroom when an accident case is being tried. If a motorcyclist is obeying the rules of the road and is injured by a careless automobile driver, he or she must often go above and beyond a usual burden of proof in order to convinced biased members on a jury that they deserve to be compensated for their injuries.
Is this fair? Of course not, but it is often reality.
Personal bias or preconceived judgement should not play a role in compensating an injured motorcyclist, but there's no escaping human nature. Many people distrust — or even dislike — motorcyclists, and members of the jury are not immune from this prejudice. Juries may be less likely to award handsome verdicts to motorcyclists – compared to the driver or passenger of a car. Insurance adjusters are aware of this bias, and may reduce their settlement offer appropriately. For this reason, the burden of making a concrete case, and proving the key issues requires extra effort.
Situations like this call for the expertise of an expert witness. Someone who has the experience, knowledge, and credentials to explain the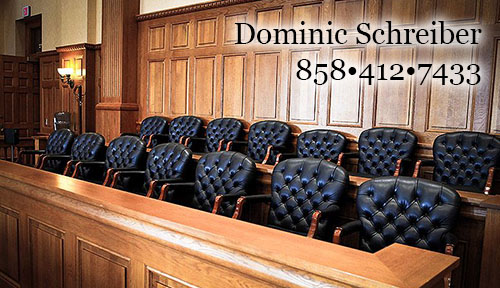 facts concerning an accident to a judge or jury and that a motorcyclist is entitled to the same rights as any other injured person.
Mr. Dominic Schreiber has helped plaintiffs and defendants get to and explain the facts related to many serious accidents and he is well-qualified to testify as an expert witness in all 50 states.
A Summary of Mr Dominic K. Schreiber's Experience and Credentials:
• Over 30 years of experience in motorcycle operation and safety.
• Personally trained more than 400 civilians and law enforcement officers in
motorcycle use and safety on more than 52 motorcycle models.
• Motorcycle Enforcement Officer for Riverside Sheriff's Department with over 250
hours of Police Motorcycle Rider Training.
• Traffic Collision Investigator to include motorcycle-related motor vehicle
accidents.
• More than 200,000 miles of personal motorcycle riding experience.
Mr. Schreiber's knowledge and courtroom demeanor have helped present a balanced perspective on serious injury cases. Please call 858- 412-7433 to arrange a confidential consultation.